About the Artist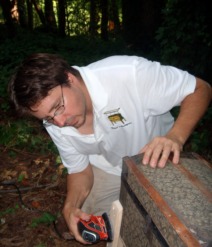 Mark Rixon Cerny
Mark Rixon Cerny was born in Upstate New York in 1969. At an early age, Mark showed a genuine interest in antiques. In first grade, he dug up old
19th century
bottles and metal utensils with his brothers in his backyard woods. He loved his family's old leather bound books and set of three
18th century
Windsor chairs. His early respect for history was evident through his interest in antique objects and the wondeful stories told on their behalf.
As a young man in the 1990's living in
Atlanta, Georgia
, Mark collected all types of antiques. His collection consisted mostly of
antique trunks
. The more of them he collected, the more he understood the impracticality of using them in today's world, especially given the shape is often dome top or camel back. Most often these precious trunks are discarded to the basements, attics, and garages of homes because people cannot place objects on top of them. Inspired by this problem, Mark began building his first trunk lid, wood and glass framed table tops in 2002.
Mark "recycles" antique trunks into functional, high-end furniture tables that open for storage. He custom builds trunk lid table top assemblies and leg assemblies for each trunk he turns into a table. Once attached to the trunk (now a table), these assemblies transform the trunk by giving it a nice, bold stance, as well as protecting it from top to bottom. As a table off the ground, the trunk also becomes easier to view and appreciate for generations to come.
Mark believes that the
antique trunk
, in 100% original condition, is the true art. His artistry is in maintaining the integrity and beauty of such by complimenting and respecting the trunk's "age-earned" patina, and not overwhelming it. His tables are subtle in design and finish, as they must blend into the colors and textures of the overall antique condition of the trunk. Getting this right, along with scale and proportion, flush and level surfaces and flowing legs, is challenging for him. However, this challenge is met by his fascinated determination and high attention to detail. Mark's endless goal is to showcase and preserve beautiful antique trunks the best way he knows how.....by turning them into tables!
CLICK HERE
TO SEE WHERE MARK WILL BE EXHIBITING NEXT.
HOME
CONTACT
WHERE SHOWING
AVAILABLE TABLES FOR SALE
COMMISSIONS
FUTURE TABLES
TRUNK LAMPS
ESTIMATES
RESTORATION
ARCHIVE PHOTOS
GUEST BOOK
---